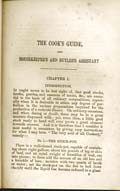 Place in a well tinned stock pot, capable of contain ing about eight gallons, about ten pounds of leg or shin of beef, and an equal weight of knuckles of veal, cut into pieces; to these add the carcass of an old hen and a knuckle of ham; moisten with two quarts of broth or water; set the stock-pot on the fire to boil down sharply until the liquid has become reduced to a glaze .
The heat must then be slackened by placing ashes upon the fire in order to abate its fierceness, so as to allow the glaze to attain a light-brown colour, with out its being burnt and carbonized: if this latter accident happen, it tends considerably to diminish the stomachic qualities and flavour of the stock or consommé.
As soon as the consolidation of the glaze is effected, make up the fire, fill up the stock-pot, and when it boils, skim it thoroughly; after which garnish with six carrots, four onions, three turnips, four leeks, two heads of celery, and an onion in which twelve cloves have been stuck; season with three ounces of salt, and having allowed the stock to continue gently boiling for about five hours, remove the grease from its surface; and then proceed to strain it through a sieve into clean pans for use, as will be directed hereafter.