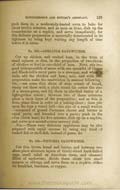 Cut up chicken and cooked ham, in the form of small squares or dice, in the proportion of two- thirds of chicken or fowl to one-third of ham.
Next, stir two good tablespoonfuls of sauce with one spoonful of Crosse and Blackwell's curry paste in a stewpan, and when it boils, add the chicken and ham; mix, and with this preparation make the sandwiches in manner following : viz.,—cut some thin slices of stale cramb of bread, stamp out these with a plain round tin cutter the size of a crown-piece, and fry them in clarified butter of a light-golden colour; between two of these croutons place a thick layer of the preparation; and as this is done, place them in order on a baking-sheet; then put upon the tops a round ball—the size of a small walnut composed of grated Parmesan cheese and butter in equal parts, and kneaded into a paste; push in the oven (brisk heat) for five minutes, dish up on a napkin, and serve as a second-course savoury dish.
Note.—These very delicious appetisers may be also prepared with equal success by using any kind of cooked fish or shell-fish, instead of game, &c.